The banks of the historic Suwannee River offer cool breezes and relaxation to RV'ers coming to enjoy Natural North Florida.  Many of the campgrounds offer tent camping as well.
Yellow Jacket Resort, on CR349, between US19 and the Town of Suwannee, is a full-service RV campground, alongside the beautiful Suwannee River
300w,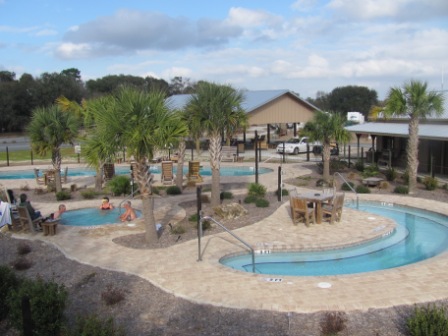 448w" alt="RV Resort in Mayo FL" width="300″ height="224″ />
Upriver, the Suwannee River Rendezvous Resort & Campground is home to Convict Spring. Convict Spring is a natural fresh water spring that feeds the Suwannee River. The spring is a "cool" place to swim. It is also home to small fish and some turtles.
Suwannee River Hideaway Campground is a beautiful nature based campground, located on the historic Suwannee River in Old Town, Florida just north of Chiefland.They are hidden off of the highway so you do not see or hear the passing traffic and all you will hear at night are the owls.
Suwannee River Hideaway Map
Welcome to Old Town Campground on CR349 and the Suwannee River
Looking for a rustic camping experience with modern conveniences close to the Suwannee River and Florida's Nature Coast activities? Old Town Campground is a quiet country place where you can enjoy a camp fire under majestic oaks and tall pine trees.
Bill's Fish Camp and Anderson Landing RV Park
If you're heading to the mouth of the Suwannee River and the Gulf of Mexico,  Bills is adjacent to Anderson Landing Park. This state-maintained RV park is clean, neat and often crowded. Call Bill's for information at (352) 542-7086, as they're in charge of registrations. Anderson Landing also has a free boat ramp.
Suwannee is located at the end of County Road 349 in Dixie County Florida. Leaving Old Town, FL you will need to travel south on County Road 349 for 23 miles. After entering the town of Suwannee, take the 3rd paved road to the left. This will be 219th Street (also named Suwannee River Drive). Bill's Fish Camp and Motel will be about 75 yards on your left directly across from the Suwannee Baptist Church. Phone: (352) 542-7086